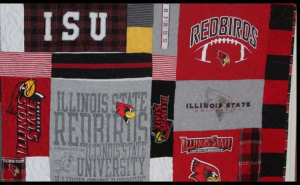 My passion for sewing took me into creating quilts for more then 20 years.  Now, I primarily focus on tee shirt quilts.  The one of a kind uniqueness of each quilt makes it very exciting for me.  Recently creating the Wonder Women quilt for my neighbor Hana.
With all your tee shirts, we can create a heirloom to cherish for years to come and with quality craftsmanship, it will last a lifetime.
Here is how we do it
Your tee shirts are cut into different sizes, assembled, and sewn together. I then layer on top of the batting and backing which is put onto my Gammill quilting machine. My machine is computerized and custom quilting designs are available (ask for details).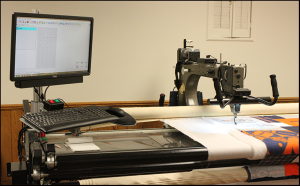 The backing, binding (100% cotton), and 1/4″ batting are included in the price and together gives superior softness and durability for a quilt that will last a lifetime.
Not just tee shirts!
Mix and match any machine washable fabrics including sweatshirts, sweatpants, jerseys etc.
Embroidery and photo transfer available
For an additional cost, add special touches with photo transfers or embroidery see sample.  Email your ideas: poem, quotes, names, etc. to me at teeshirtquiltz@gmail.com or cusembdsn@comcast.net.